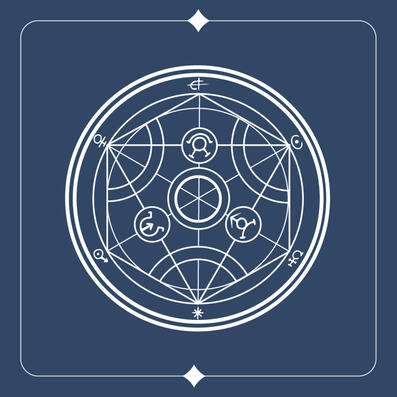 Equivalent Exchange Anthology
The Equivalent Exchange Anthology is a ship-friendly project open to Fullmetal Alchemist creators of all types. Content about any and all Fullmetal Alchemist characters and ships will be allowed (with appropriate ratings and warnings). Hate, harassment, or disparagement of contributors will not be tolerated.

The Anthology's SFW zines and their
accessible content are now available on
Dreamwidth – check them out below!
About
The Equivalent Exchange Anthology will be a ship-friendly project open to Fullmetal Alchemist creators of all types. Content about any and all FMA characters and ships will be allowed (with appropriate ratings and warnings). Hate, harassment, or disparagement of contributors will not be tolerated.

The project will have multiple parts*:

A printed zine of gen fanwork and meta**A printed zine of SFW ship-based fanworkA digital zine of NSFW content (including a section for ship-based content and a section for gen)A digital zine of NSFW ship content, including trigger-heavy content
(*This general project structure is provisional and open to change, as the final scope of the project will depend on contributions. Under no circumstances will an alteration of the structure result in SFW and NSFW content being mixed into the same project.)

(**Meta can be personal essays about what makes FMA meaningful to you, analyses of characters, themes, or details from canon, stories about your experience with FMA, or another type of non-fiction)
---
FAQs
What is a zine?

A zine is an unofficial fan-made publication compiling textual and visual contributions from fan creators.
What is the theme of this project?
We want to celebrate the twentieth anniversary of Fullmetal Alchemist by letting creators express their love for FMA however they like! We are leaving this very open-ended on purpose. This fandom is full of creative people with varying perspectives – to us, the most important thing about FMA is the message that all of us coming together despite our differences is what gives us strength. The name "Equivalent Exchange" was selected to highlight the way that being a part of the fandom has given us so much in return for what we've put in, which is another element that we'd love to incorporate into the project.
What do you mean by "meta"?
"Meta" in the context of this project can be any non-fictional content that someone wants to create: character analysis; thematic analysis; extended commentary on a scene or plot point; a short essay about your personal experiences with and/or your discovery of FMA; what FMA has meant to you. A description of the work or process that went into a cosplay or another type of fan creation could also fall into this category. You can find more information on what could qualify as "meta" here!
Will there be merchandise?
Yes! We will have merch bundles available, and it will be possible to purchase them together with the zine parts of the project, or on their own.
What is the schedule?
The full schedule is available here! Pre-orders will open August 1st and remain open until October 3rd.
Will the project have a Discord server?
Yes! The Discord server, as well as periodic emails, will be the primary methods used for communication with contributors. The Discord server is carefully organized by project, so that contributors will only have access to content for the project they are contributing to. The server will be SFW by default, except for the project-specific spaces for the NSFW projects, and all server spaces will be moderated. All of the general "chat" channels will be strictly SFW.
Who can apply?
Anyone who loves FMA, wants to create for it, and respects others in the fandom regardless of differences in fictional preferences (character interpretations, ships, etc.). Contributors must be prepared to collaborate with others despite differences of opinion, and should not have a history of shaming, belittling, or attacking others based on what they enjoy in fanwork. In short, applicants' philosophy should be "Ship and let ship"!
Can minors apply?
As long as an applicant under 18 is legally old enough to work in their country of origin, their application will be reviewed. (Contributors under 18 will only be permitted to apply to, contribute, and view SFW content.)
How many contributors will be accepted?
We don't have a maximum number of contributors as of yet. For the two SFW physical zines, we will determine the number of contributors based on page limitations, but each SFW zine will have an extended digital PDF version to include contributors whose work or full work won't fit into the printed zine. The all-digital NSFW PDF components will be able to accommodate more contributors. We've designed the project in the hopes of including as many creators as possible.
What will be required for an application?
We will ask for a few samples of work similar to what you would be contributing (this does not necessarily have to be FMA fanwork), as well as your social media accounts and email address.
I haven't created for FMA in a while… all my FMA work is old. In my application, can I submit more recent sample works from other fandoms instead?
Yes, that's fine! Having at least one FMA sample in your application (regardless of the application type) is great, but not required. We would mostly just like to get an idea of your style, so please feel free to submit samples that you think represent you well, regardless of the fandom!
Are all ships accepted in the ship-oriented parts of the project?
Yes. As long as you are willing to tag and warn as appropriate, all ships are welcome. We will expect contributors to tag and warn diligently, to be mindful of others' sensitivities, and to keep ship-related discussion in the appropriate parts of the server.
Can I contribute adult and/or controversial content?
Yes. As above, all contributors will be required to tag and warn carefully with their submissions and when interacting with other contributors, to use the appropriate channels on the server at all times, and to respect others' boundaries. The NSFW projects will only be open to contributors who are 18 or older.
I'd like to apply, but I don't like certain ships and have some triggers. Will I have to see this content in the Discord server?
While we can't guarantee that you won't encounter content that you would prefer to avoid, we will be compartmentalizing ship content, NSFW content, and potentially triggering content as much as possible in the Discord server. We are counting on all contributors to help us with this, and will do our best to facilitate a safe and friendly collaborative environment!
Do podfic recorders have to edit their own podfics as well as recording them? How many recordings will be expected, and how will work be assigned?
Anyone who is accepted to record podfics for the Anthology is welcome to edit their own podfics, or to submit unedited podfics to our moderator team. We have a few mods who have volunteered to help others edit their audio.
Applicants accepted to record podfics would be able to choose which works they wanted to record for, so that everyone can edit an amount and specific content that they're comfortable with. The total amount will depend somewhat on the amount of textual contributions that we end up accepting. Several of our mods will be helping to record any works not selected by applicants, in the hopes of making as complete a collection as possible (including descriptions of visual content). Depending on the amount of effort that we're able to recruit, we hope to record podfics at least for every submission in the two SFW zines (fanfics for which will have a wordcount limit of 3,000 words, whereas PDF-only fics may be slightly longer).
Applications for podfic recorders are due by March 7, 2021, but the acutal recordings will be done between July and September (after text and art are finalized, while pre-orders and layout work take place).
Are AU (Alternate Universe) works allowed?
Yes! AU works (canon-divergence, alternate universes, crossovers, etc.) will be accepted, both for application samples and for final contributor submissions if desired. Any AU works in the final Anthology will be tagged and described clearly.
Is this a 20-year anniversary project?
Yes! We are hoping to open pre-orders in July to celebrate 20 years of Fullmetal Alchemist. It is not required that this theme is represented in any of the contributions, but it would certainly be welcome!
I am a recent pro-shipper. Some people may remember things that I did and said in the past that were not pro-ship, but I have changed my stance. Can I apply?
As mentioned above and in the Contributor Protection Policy, our first priority is the safety and comfort of all of our contributors. Each application and applicant will be reviewed by our team, and decisions will be made on a case-by-case basis as to whether we anticipate that an applicant would be able to work well and interact positively with other contributors.
Is this project for-profit, or for charity?
We are currently planning to donate half of the proceeds to the Archive of Our Own (AO3), and divide the remaining half evenly among all contributors to compensate them for their work.
I'm a little confused about the different parts of the zine. Could it all be combined into one zine?
Our intention with this project is to provide space to as many creators, and as many different types of content, as possible – specifically including NSFW content and/or ships that are often not permitted – but to also make it easy for purchasers to choose only the content they are interested in or comfortable with. So you can think of it as four separate projects, with different "ratings" but with the same goal of inclusion. Dividing the project into subsections will allow us to accept more contributors overall!
In addition to making it more difficult to delineate types of content, ratings, and warnings, combining the projects into one zine would likely result in an extremely long volume. This would raise shipping costs for physical copies, and also make the digital version into a very large file! Our goal is to make it possible for people to buy a single project that they will enjoy every page of; or to bundle multiple projects together if they're interested in several or all of them.
A lot of zines fail or turn out to be scams. Is your mod team experienced and prepared to see this through?
We kept our moderator bios a bit more personal, but many of our mods have prior experience with multiple zines from start to finish. Mai is the lead mod on another zine that is currently open for pre-orders, as well as the finance mod on three others in progress; Feo has been a mod on ten zines, one of which she headed and several of which have reached completion; and Noct has headed two zines, been a mod on four others, and contributed to six more. Kari has also modded and contributed to over a dozen zines; and Getti has been the lead mod for a completed zine and has contributed to numerous others. Many of our other mods have real-world and/or paid work experience relevant to the project: Grace has extensive editorial experience and a background in print and online journalism, and also runs events for work in the RL sphere; and Tierfal regularly runs ship weeks and fandom events, and has been coordinating events as part of her day job for many years. Some of our moderators have not participated in a zine before, but are longtime fandom contributors, organizers, beta-readers, and more; or have additional relevant experience and skills, which they are excited to dive in and apply!
Since the full scope of the project will be determined in part by the number of applications that we receive for each section, we wanted to have a lot of hands on deck to make sure that we can divide the work fairly without anyone getting overwhelmed.
To make a long story short: we trust our team, and we're passionate about this project. We hope that you will be, too!
---
Contributor Protection Policy
Once an applicant is accepted, they are considered a "contributor" and are therefore under the protection of the zine's mod team.

This is a ship-friendly zine project organized by a pro-ship team. We hope to incorporate a large variety of ships and perspectives, but our highest priority is for our contributors to feel safe, comfortable, and respected while contributing. We will take every effort to work with contributors to allow them to participate anonymously, if preferred.

We encourage contributors to steer clear of engagement with antagonistic parties during the course of the project.

Contributors of all types will be given control over how they want the zine to promote their name and brand.
During promotions and posts about the project, all contributors will have the option of using an alias, pseudonym, handle, or account other than their usual or most well-known one.Contributors will be able to request not to be listed publicly as a contributor before the project is released.Contributors will be able to request that their name but not their social media links be shared in association with the project.Contributors will be able to request not to have their work promoted during the project if desired.Contributors may contact the mod team at any time to work out other or additional arrangements for their safety or well-being.We guarantee that none of the information you provide in your application form will be shared outside of the mod team, nor will it be used for any purposes other than assessing your application to the Equivalent Exchange Anthology.
---
Moderators
Major General Tierfal (she/her, Coordination Lead, Social Media Lead, Writing Co-Lead, Cosplay Lead, Audio Co-Lead, Server Lead): Tierfal has spent the last 10 years making her boundless devotion for Roy and Ed into everyone else's problem. She can be found on AO3, Twitter, and Tumblr, unfortunately for users of those sites.Major General Mai Kusakabe (she/her, Finance & Accounting Lead, Coordination Co-Lead): Mai has been around since the birth of FMA. She writes weird crossovers, RoyEd, and likes to smash Roy and Olivier together. Glaciers move faster than she updates. Mai can be found lurking on Tumblr and AO3.Colonel Feo (she/her, Graphic Design & Layout Lead, Art & Merch Co-Lead: Feo is a huge graphic design dork, Greed's simp and sucker for zines. Feo can be found on Twitter as svec_design, on Instagram as @svec.design, with more info available at her Carrd: svecdesign.carrd.coMajor OkaySky (he/him, Art & Merch Lead, Audio Lead, Social Media Assistant, Coordination Assistant, Server Assistant): Sky wishes he was Ed and has spent too many hours drawing the poor lad. Sky can be found easiest on Tumblr as okay-sky but can also be found on Twitter and AO3.Brigadier General Grace (she/they, Writing Co-Lead, Coordination Assistant, Social Media Assistant): Grace is the world's slowest writer, spitting out comedy nonsense while the magnum opus crawls along. Multifandom, multiship, no shame. Grace is available as gracelesso on AO3, Tumblr, and Twitter.Lieutenant Colonel Noct (she/her, Shipping Lead, Art & Merch Assistant): Noct is a lil nobody whose main goal in life is to make others happy and help as much as she can! Noct is not really active on social media but is all over Discord. She writes more than any other productive thing and also likes to craft. Noct simultaneously loves and hates the Nina jokes, and unironically wants a horrible Christmas sweater that will make her and others cry.Brigadier General Jam (they/them, Accessibility Lead, Coordination Assistant, Audio Assistant): Jam brings a huge amount of accessibility, content management, and organizational experience to the Anthology, and all of the best emojis to the server. They can be found as poloniumjam on Twitter and AO3!First Lieutenant Luo (they/them, Graphic Design & Layout Assistant): Luo might actually be a quokka, but they are such an excellent graphic and layout moderator that we don't care.First Lieutenant Kari (she/her, Art & Merch Assistant): Kari has been here since the 2003 anime and still isn't over Hughes's death. She writes fic in addition to doing art, is 87% Kingdom Hearts trash, and is fueled almost entirely by spite. You can find socials and other stuff for Kari on her Carrd: kawree.carrd.coMaster Sergeant dancibayo (they/them, Server Assistant): Danci loves spaghetti and problematic content, and can also be found on AO3, Twitter, and Tumblr.Master Sergeant Deminia (she/her, Audio Assistant, Accessibility Assistant)Master Sergeant Mel (she/her, Audio Assistant)Private Warrior (she/her, Audio Assistant)Sergeant Getti (she/her, Art & Merch Assistant, Shipping Assistant)Captain Morgrim (she/her, Accessibility Assistant)
---
Contributor Check-In Policy
Checking In
To make sure that we're on track with our schedule, we will have check-ins on April 30th and May 31st, ahead of the final submission deadline on June 30th.

How will check-ins work?
The mods will share a link to a Google form with all contributors, asking for an update on your progress. You will just need to fill out your name, a brief update on how your contribution is going, attach a file with your current progress, and tell us any concerns you may have.

You will have one week to respond to the check-in, so please be sure to respond promptly!. You can request a small extension, but you must ask for it before the deadline. It is possible to check in early as well (we will try to share the form before the check-in week, but you can always send your progress update ahead of schedule if you have met the check-in requirements and know you won't be available during the check-in period.

What happens if I miss a check-in?
If we don't hear from you within a week of sharing the form, we will get in touch with you directly via your preferred contact method to see if everything is okay and how we can help.

If we don't receive a response to this within three days, that will be equivalent to your voluntary withdrawal from the zine. If something does arise that makes you concerned about your continued participation in the zine, we would love it if you reached out so we can try to help you resolve it, but we understand that sometimes unforeseen circumstances are unavoidable.

What about if I'm running behind?
Tell the mods! We understand that life happens, and sometimes fandom projects get bumped down the priority list. If you're struggling, or need more time, please do come to us - we'll work with you on what we can do to help.

If your update for us is "Work has been kicking my ass for a month and I'm behind, but I still really want to be a part of this project. I'll have more time from next week - can I send you a better update then?", we want to hear it! If you need outside help, like assistance from a beta reader or a pinch-hitter to help you color your piece, we want to be able to provide it!

If you have a solid reason for your delay, but are confident you'll be able to finish your piece on time, we'll be happy to arrange a personalized schedule for your check-ins if necessary. We may refuse you this option if we have reason to believe your piece won't be ready by the final submission deadline.

What if I need to drop out?
Ideally, everyone who reaches the first check-in will do so understanding that they've made a commitment to participate in this project. However, we really do understand that circumstances can change. What we're keen to avoid is last-minute dropouts - if you're concerned you won't be able to finish your piece in time, please let us know at the earliest opportunity. That way, we can either help you to find ways to get it finished, or make the adjustments we need to continue the anthology without your piece.

What if I have concerns and it's not check-in time?
Again, talk to the mods. You can get in touch with us through the Discord server, by email, or through any of our contact details. We want to hear from you!

We know deadlines can be stressful. The Equivalent Exchange Anthology is meant to be an enjoyable project for all participants, and the check-ins are there to help with that. By keeping everybody updated throughout the project, we hope to take some of the pressure off the final deadline date for mods and contributors alike.
Project Schedule
(This schedule is subject to minor changes depending on manufacturers' timelines and other items that may be out of our control.)

March 7th: Applications due
March 15th: Acceptance emails sent
March 31st: Concept submission deadline
April 30th: 1st contributor check-in
May 31st: 2nd contributor check-in
June 30th: Final submissions due
August 1st: Pre-orders open
October 3rd: Pre-orders close
October/November: Manufacturing/production period
December/January: Anthology shipped
March 1st–31st: After-sales
---
What Is "Meta"?
'Meta', in our project, means anything that could count as 'fannish nonfiction.'

The Archive Of Our Own (AO3) has defined 'fannish nonfiction' as:
discussions of fannish tropes, essays designed to entice other people into a fandom, commentary on fandoms, hypothetical casting for alternate versions of works, documentaries, podcasts about fandom, explanations of the creative process behind a fanwork or works, tutorials for creating fanworks, guides for fan-created gaming campaigns, or many other thingsan analysis of or commentary on multiple fanworksan essay on a particular character's narrative arc in canon or of the interaction between film and comics versions of a source
For the Equivalent Exchange Anthology, we are primarily looking for text-based meta submissions, but if you have an idea for something else, please drop us a line on Tumblr or Twitter to discuss it!
---
Meta Writing Examples
Character analysis
An in-depth discussion of a character or group of characters, that may include but is not limited to their motivations, their purpose in the story, their relationships, etc.
Thematic analysis
An in-depth analysis of how FMA tackles certain themes
Extended commentary on a scene or plot point, including but not limited to:
Takes, interpretation, or reflections of certain scenes, including what may be going through some characters' minds during an exchangeHow a scene or plot point affects developments
A short essay about your personal experiences with and/or your discovery of FMA – this could focus on what FMA means to you; or on the work or process that went into fan creations, including:
Accounts or anecdotes about back-and-forth discussions between a fic writer and their beta/s over characterization, canon interpretation, themes in the writer's fanfic, etc.Accounts or anecdotes about researching FMA worldbuilding for a ficAnecdotes or commentary about your cosplay work, like how you put the cosplay together or how you relate to the character you are cosplaying, etc.Commentary about your fanart or FMA-inspired art you produceAnecdotes or commentary about your merch collection or merch collectingAccounts of fanart commissioning or writing commissioning (from the point-of-view of the commissioner)Anecdotes of creating a piece of fanwork and who it is for, etc.
If you are unsure whether your idea 'qualifies' as meta, please just contact us via Tumblr or Twitter to ask!
APPLICATION INFORMATION
Applications are now open for the Equivalent Exchange Anthology!

All applications will be due by March 7, 2021.

We're accepting applications for the following contributor roles:
Fanartists and Merch DesignersFanfic WritersMeta Writers*CosplayersPodfic Recorders**
(*If you'd like more guidance on what "meta" can entail, we have a quick guide.
(**We will be recording podfics of all of the textual content in the projects in order to make the final product more accessible!)

If you would like to apply for more than one contributor role, please fill out a separate application for each role. Each application (regardless of role) will require links to 3 samples of representative work, and a link to a portfolio of additional pieces for assessment. We will also need links to your social media accounts.

A recap of the projects in the Anthology, as well as the full schedule, are included in the applications, but please reach out if you have any questions that aren't covered in the app or in our About/FAQs!

🎨 Fanartist & Merch Designer Application
✍️ Fanfic Writer Application
📝 Meta Writer Application
🎭 Cosplayer Application
🎙️ Podfic Recorder Application

We can't wait to see your applications! Good luck!
---